Every now and then, we periodically review and share our macro perspective. Today we would like to share some insights about the Financials sector.
Sector Insights: Financials
Investors' outlook for financial stocks looked bleak when the pandemic hit. As economic activity ground to a halt, there was widespread concern that the financial sector—banks, insurance, and asset managers—would suffer from the wave of defaults and market losses. And this was not baseless: historically financials tend to do poorly when unemployment is high, and the economy is weak (see graph). We recap the sector's performance so far.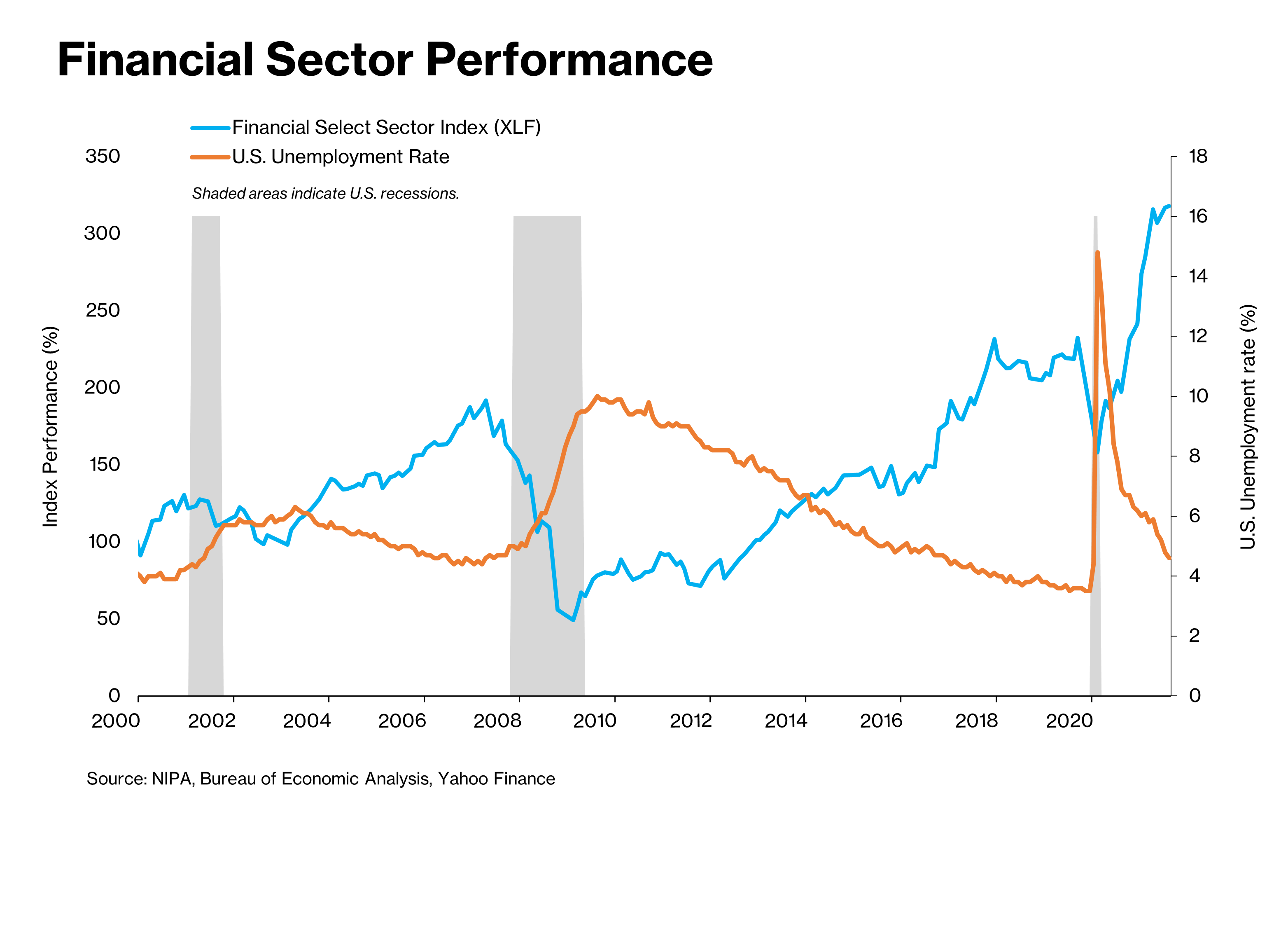 The anticipated worst-case scenario last year did not materialize as major banks were well prepared, putting aside major reserves to cover bad loans. Additionally, government support to households, small businesses, and large corporations helped bolster lending. The quick recovery also meant that the majority of redemptions at the start of the pandemic were quickly reversed as equity and bond markets soared. Mortgage originations also outperformed. Indeed, our portfolio exposures to the financial sector through holdings in Walker Dunlop (WD), MSCI (MSCI), and Freedom Holding Corp (FRHC)—which represent roughly 14.5% of our aggregate holdings — have performed well so far!

So, let's do a quick dive through the key industries within the financials, starting with banks. Bank profitability is determined by their net interest income (how much they earn on their lending activity minus how much they pay to finance their lending activity); the size of their credit losses; their net gains on the securities they hold; their net income from other items such as fees and commissions from deals; and their operational expenses. So far, virtually all of these components have been outstanding. The flurry of deal-making, large gains by trading desks, fees from growing consumer wealth management, and improvements in operational efficiency have contributed to record revenues across the board.

This season's earnings reports confirm these results and the sector/industry's outperformance relative to the broader S&P 500 index (since March 2020) signals that investors remain enthusiastic about its outlook. As term premia and interest rates rise, the tailwinds for net interest income will continue. While trading desk performance is more volatile from year to year, a strong economic recovery bodes well for continued strong M&A activity. The competition for consumer wealth will intensify but we strongly believe there is enough to go around. Improvements in process digitalization and further incorporating advanced analytics will continue to drive operational efficiency, particularly in a post-pandemic world.

For insurers and pension companies, the global normalization of monetary policy and rising yields and term premia will drive stronger earnings. Insurers had a rough 2020 and while they had some pricing increases, an increased frequency of severe hurricanes and other natural disasters could cause higher losses. The asset management industry had been growing steadily, taking on more credit intermediation as post-global financial crisis reforms led to higher compliance costs for banks. The sheer variety of verticals makes it more difficult to summarize the industry outlook. In the short run, the recovery of the real economy bodes well for the performance of the industry as does monetary policy normalization. Over a longer horizon, we expect the increasing adoption of technology in insurance and asset management workflows will continue to drive efficiency improvements and lower intermediation costs.

We remain optimistic about the broader economic outlook and continue to focus on seeking out exceptional businesses in which to invest while considering the macro and sectoral tailwinds. As always, please feel free to reach out to us with any questions and/or comments you might have.
The Xantos Labs team